1-repair and overhaul services
Expect your machine to perform at its best
Repair services provide our customers with the assurance that when their piece of equipment is returned to operation they receive the maximum value from the repair process. No matter how complex the equipment, regardless of OEM, you can be confident your machine will perform as expected.
Repair services from the experts
Equipment repair can be carried out at one of our service centers and, for basic repairs, on site at your location. After a thorough inspection is completed, a full report of the machine's condition will be drawn up. When repairing a piece of equipment to 'as new' condition, the following points are addressed
Overall condition
Detailed examination of all critical parts and their condition
List of parts suitable for re-use or refurbishment
List of parts to be replaced
Estimate of time and cost of work needed
2-Compressor coatings
Increase compressor efficiency with specialist coatings
Surface roughness has a major impact on compressor performance. It is adversely affected by corrosion and fouling, which both reduce performance. Our company has the solution: our compressor coating can improve compressor efficiency and increase the life of your compressor.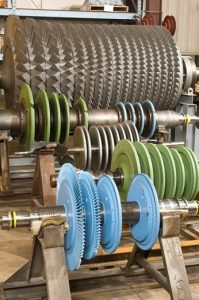 3-Control systems
Control systems for improved efficiency
Control systems are a vital part of your turbines–whether large or small. Our company can evaluate your system and meet your exact requirements with the Our company Control Package. It vastly improves the reliability and efficiency of your equipment.
4- 24/7 support
We are there when you need us
Users of turbomachinery and electro-mechanical equipment can count on around-the-clock assistance from our dedicated teams of engineers and field service personnel worldwide. We are there when you need us.
5-Emergency breakdown services
On site, fully equipped to minimize downtime
In case of an emergency breakdown, Our company can mobilize teams of specialists to provide field service worldwide. Our staff can be at your site as soon as possible with fully-equipped tool containers to provide repair services for turbomachinery, generators, or motors.
6-Remote monitoring
Optimize your maintenance cycles with remote monitoring
Our company assists you during planned and unplanned outages. We can analyze the behavior of your turbomachinery and electro-mechanical equipment. We use remote monitoring to optimize maintenance cycles and reduce your operating costs.
7-Troubleshooting
Fast support to minimize downtime
For emergency and machinery diagnostic services of all your rotating equipment, you can rely on Our company. We offer diagnostic services and perform expert analyses to identify the cause of specific incidents. We provide the best possible solutions and work with you to minimize downtime.
8-Rotor repairs
Optimal quality paired with cost effectiveness
Over several decades, Our company has developed innovative repair methods for all types of rotating equipment. All these methods have been meticulously tested and qualified to ensure they provide optimal quality while remaining cost-effective.
9-Retrofit services
Comply with modern requirements
Our company modifies older machinery to comply with modern requirements. We perform technical analyses of the status of each component in order to determine the actions required to improve the performance of your equipment.
10-Improving performance and efficiency
Our engineers have the practical experience required to formulate specialized repair methods that minimize the amount of modifications, thereby sharply reducing cost and delivery lead times. You obtain the following key benefits:
Achieve tremendous flexibility through advanced repair techniques such as specialized welding processes for reconstruction of shafts and turbine disks
Avoid long outages that can occur while awaiting delivery of new rotors and/or casings
Minimize modifications to the foundation, piping and auxiliaries
Replace machine internals during a normal outage, and (usually) upgrade process seals, bearings, and protection systems at the same time
Our company modernizes your equipment for better performance, reliability and efficiency.
Process validation
Offering state-of-the-art validation services
During process development, existing or new proposed process concepts often have to be validated in laboratory or pilot tests. In this regard, we offer testing services in our state-of-the-art test centers for all kinds of separation process evaluation tests.
Helping you answer all those upfront questions
We provide studies and conceptual designs to support you in the development of a new or improved separation process, with changes in feed conditions, or new product specifications. With our extensive know-how and unique range of separation technologies, we help you to find the best solution.